St Mary's Church of Ireland
St. Mary's Church was founded and funded by Archbishop Michael Boyle (c1615-17020) who was also Archbishop of Dublin, 1663 and Primate Archbishop of Armagh in 1678. He held also the important secular position of Lord Chancellor of Ireland between 1665 and1686. He provided land also for the purpose of a cemetery.
St. Mary's Church was consecrated by the Bishop of Kildare on 24th of August 1683 with 'a multitude of gentry and common people' attending for the service of convocation and has been in regular use since then.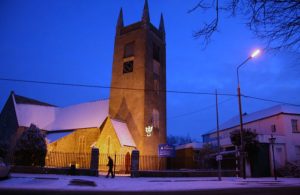 The 17th century church tower contains the original bells, which bear Archbishop Boyle's coat of arms and the date 1682. The tower contains also what is believed to be the oldest working turret clock in Ireland. Over the centuries the church has been enlarged; 1856 – North transept built 1889- Organ transept built
The original organ, donated by Lord Milltown, was sold to Baltinglass Church. The current organ, dating from 1890, was donated by the 6th Earl of Milltown, Edward Nugent Leeson, of Russborough House, to commemorate his brother Joseph Henry, the 5th Earl. The stain glass window was a gift from an unknown donor in 1876.
Within the church there are a number of Memorial Plaques dedicated to the memory of protestant people who have made important contributions to the community in Blessington. One such memorial plaque, located in the chancel, and dedicated to Archbishop Boyle was erected by his son Morough, Viscount Blessington.
Archbishop Boyle was the owner of an estate of 17,000 acres in West Wicklow. He built Blessington Manor, which was a substantial mansion located in his estate directly opposite the church and was described as 'very great and beautiful….. in short much beyond any seat in all respects that I have seen in this kingdom'. The house was burned down during the 1798 Rebellion 'most likely by the Wicklow O' Byrne and O'Toole clans.' He is buried in St. Patrick's Cathedral in Dublin.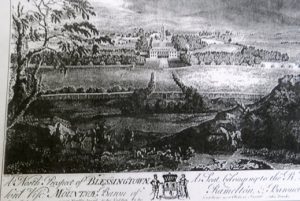 ---
Back to Heritage Trail