Blessington & District Forum, a Community-based Voluntary Body
Established in 2001, Blessington & District Forum is the united community body for the area.
The Forum is a 32 member body representing Blessington and the surrounding area, and facilitates all matters in relation to community and societal development, planning, town development, and environmental issues in cooperation with Wicklow County Council and other Statutory Bodies.
---
The Blessington Greenway
In light of issues with social distancing on the Blessington Greenway at peak times, which we cannot control, a decision has been made to close the Blessington Greenway to members of the public with effect from 24th March 2020 until further notice. This is not an easy decision for what is a wonderful amenity for the community, but it is deemed the best decision in current times. It will impact regular users of the walkway but a short term closure now is probably the best thing for the local community in the longer term. As things change, this decision will be reviewed, and we will keep the local community updated
.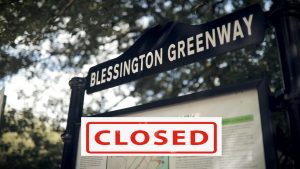 ---
Blessington Community Covid19 Response Group
In response to the current situation and with ongoing public health concerns surrounding Coronovirus-COVID-19, a Blessington Covid 19 Community Response group was established, bringing together different agencies to respond to the current crises in a coordinated way under the auspices of the Blessington Town Team. Posters for the group have been placed in the local community and published online to provide contact details for some members of the group. A facebook page (click here) has been created to share succinct and accurate information regarding what is happening around the town and nationally. A contact email has also been created blessingtontownteam@gmail.com for any questions. These are resources designed to enable information to be disseminated on a coordinated basis to the wider community. These are difficult times for everyone and we must do our best to get reliable and accurate information out to people.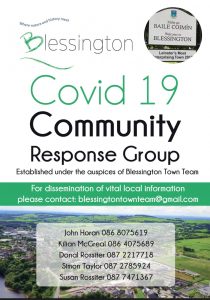 Annual General Meeting 2019
At it's Annual General Meeting held on 14th October 2019, the following persons were elected into these positions to administer the affairs of the Forum for the following three years :
   1.  Chair :             Carmel Cashin
   2.  Vice-Chair:      Michael Doyle
   3.  Secretary :      Jason Mulhall
   4.  Treasurer :      Liam Fay
---