Blessington & District Forum
a Community-based Voluntary Body
The Forum is a 32 member body representing Blessington and the surrounding area, and facilitates all matters in relation to community and societal development, planning, town development, and environmental issues in cooperation with Wicklow County Council and other Statutory Bodies.
Established in 2001, Blessington & District Forum is the united community body for the area.
See our Facebook page for more information of BDF activities.
.
---
.

In this Section, we offer a series of Diversions to get us through the 'Lockdowns'.
Please send any material you may have for inclusion in this occasional piece to info@blessington.ie
It is hoped to publish new items on a weekly basis.
---
Blessington & District Forum Toy and Voucher Appeal 2020

3rd November 2020
Blessington and District Forum today officially launched our Toy and Voucher Appeal 2020. This is a confidential service so as to maintain the privacy of recipients. 🛷 With so many families out of work due to Covid-19 and with mortgages, bills to pay etc we thought perhaps we should try and help. 🎄
🎅 The added worry of Christmas can be overwhelming trying to provide toys for children.
👶 Accordingly, so we are asking for new toy and voucher donations that can be given in strict confidence to local families, matching ages with toys etc.
🧸 These can be dropped off in the Blessington Tourist Office from 7th -11th of December from 9-5pm.
🎅 Families can contact us by private message, email or phone numbers which are shown on the poster below.
---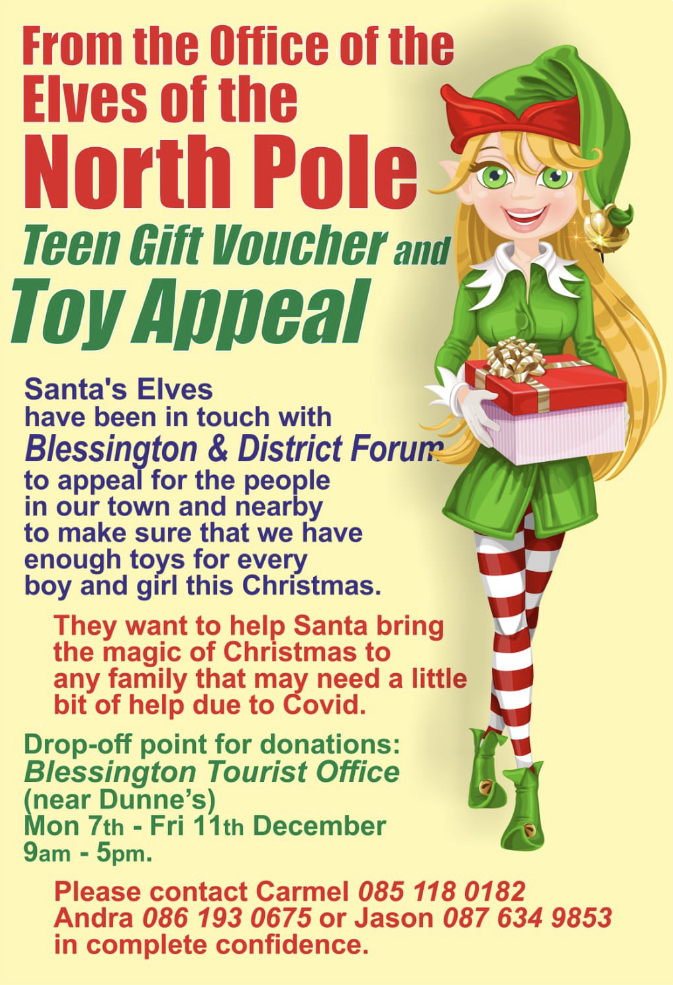 ---
Lighting-Up Blessington Christmas 2020
October 2020
We are planning to continue with the usual lighting of Blessington this Christmas, despite the intrusion of Covid-19.
Since March, there has been no opportunity to engage in or benefit from the usual fundraising activities. We are therefore appealing for any donation you can provide through a "Go Fund Me" appeal.
Our Go Fund Me page can be accessed here.

Many thanks for your support and especially to those who have already contributed. Special thanks to Blessington Credit Union for their support.
Also, the Poster below will be placed around the town; this contains a QR code. If this is scanned with your smartphone it will also take you directly to the Go Fund Me page.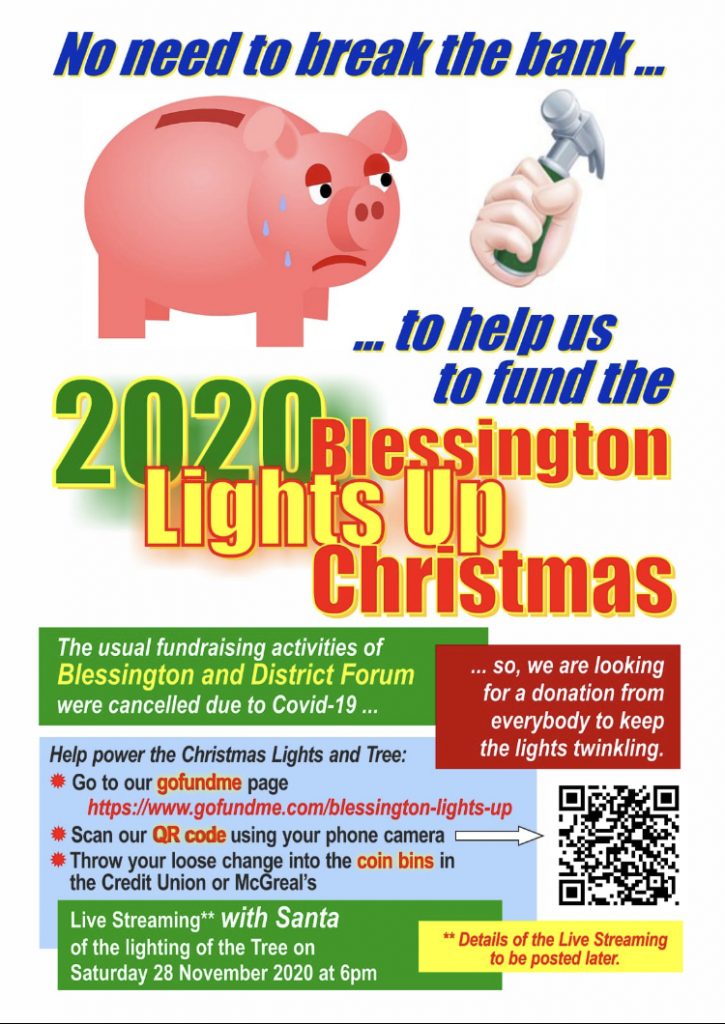 Buckets for collection of change will be in the Blessington Credit Union and all McGreals outlets. If anyone else would like to take a bucket etc please contact us. It is probable our annual shoebox appeal will be cancelled this year.
SWITCHING-ON OF THE LIGHTS AND CHRISTMAS TREE WILL BE ON NOVEMBER 28th AT 6PM
---
Blessington and Covid-19
Click here for Some Uplifting Diversions from Local Talent during Level-5 Restrictions
.
October 2020
Blessington, along with the rest of the country, is been moved to LEVEL 5 restrictions from midnight 21 October. These include :
Hand-washing Face Coverings Social Distancing Reduce Contacts Stay at Home (where possible) Exercise within 5Km radius
People who may be vulnerable and those aged over 70 years should make sure to reduce contacts at all times.
There will be no gatherings other than small numbers (25) at funerals and weddings.
Some businesses which opened again in the Summer are now closed again due to Level 5 restrictions.
Full details of LEVEL 5 can be found here.
---
July 2020
An informal working group has been established under the auspices of Blessington Town Team, of which Blessington & District Forum is a founding member, to promote the reopening of Blessington and District as the Covid 19 restrictions are eased. The main focus of the group is to support businesses and voluntary groups and to encourage a buy/support local campaign.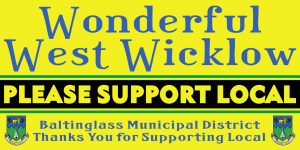 The Department of Business, Enterpise and Innovation has information on a wide range of supports available to help businesses impacted by the COVID-19 crisis, and details can be found here. (but check for continued availability).
Enterprise Ireland is working with all government stakeholders to ensure that businesses are prepared and informed on the most up-to-date advice and supports available. You can find the latest information here.
Local Enterprise Offices (LEO) are also offering information on other supports that can help your business respond, all the details are available here at this link.
Blessington & District Forum plans to compile a list of local businesses and service providers that are operating during COVID-19 pandemic or plan to re-open inline with Government guidelines. In this regard, we are seeking submission of business details (name, contact, website, Facebook etc) for FREE inclusion on this list which will appear here on this website. Terms and Conditions apply.
Blessington & District Forum is not responsible for the content of any listed website and no endorsement of any business, or any products or services contained on them is implied.

Please complete the Re-Opening Form to submit your details.
Click here for a list of local businesses who have provided their details and currently are operating post-Stage 3 or plan to reopen as soon as the Government re-opening phasing allows.
The members of the working group are
:
Blessington Town Team – John Horan
Blessington and District Forum – Carmel Cashin
Business Sector – Killian McGreal
Baltinglass MD Cathaoirleach – Patsy Glennon
Baltinglass MD Councillor – Gerry O'Neill
Baltinglass MD District Manager: Breege Kilkenny
Baltinglass MD District Administrator: Garvan Hickey
---
The Blessington Greenway
June 2020
The Blessington Greenway (Phase 1) is now OPEN to the public after being closed due to the Covid-19 pandemic. Users are expected to apply the Covid-19 protocols regarding social distancing etc when using the Greenway. Please keep Blessington Greenway TIDY.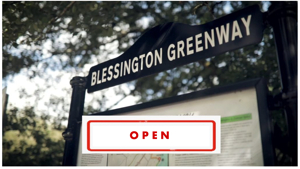 ---
Blessington Community Covid19 Response Group
March 2020
In response to the current situation and with ongoing public health concerns surrounding Coronovirus-COVID-19, a Blessington Covid 19 Community Response group was established, bringing together different agencies to respond to the current crises in a coordinated way under the auspices of the Blessington Town Team. Posters for the group have been placed in the local community and published online to provide contact details for some members of the group. A facebook page (click here) has been created to share succinct and accurate information regarding what is happening around the town and nationally. A contact email has also been created blessingtontownteam@gmail.com for any questions. These are resources designed to enable information to be disseminated on a coordinated basis to the wider community. These are difficult times for everyone and we must do our best to get reliable and accurate information out to people.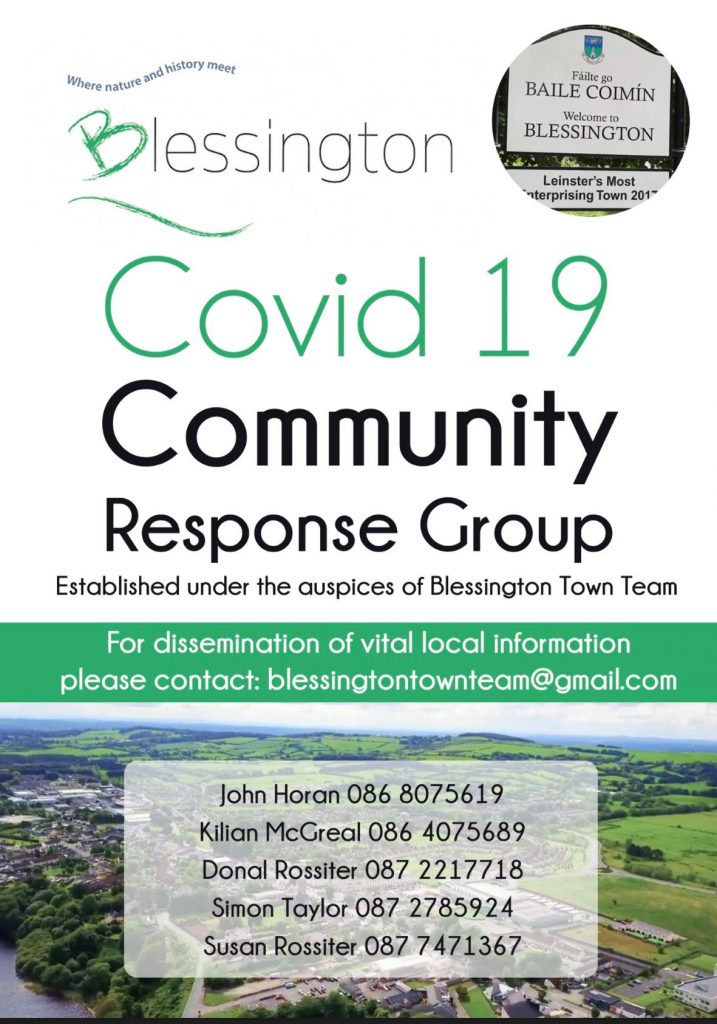 ---
Annual General Meeting 2019
At it's Annual General Meeting held on 14th October 2019, the following persons were elected into these positions to administer the affairs of the Forum for the following three years :
1. Chair : Carmel Cashin
2. Vice-Chair: Michael Doyle
3. Secretary : Jason Mulhall
4. Treasurer : Liam Fay
---